Acne affects about 40-50 million people in the world but just because you have it, doesn't mean you won't be able to get rid of it!

I know your skin is sensitive so before going through with it and testing everything, test my home made remedies on a small part of your skin to see any type of reaction.

…Down below I have 8 self care tips to get rid of your acne as quickly as possible.

1. Popping pimples
First things first, do NOT pop your pimples. The reason why you shouldn't do this is because it could spread bacteria around your other pores around the area. Also, it will take longer for your body to heal your pimple naturally.
2. Apple Cider Vinegar
So what you need to do is apply apple cider vinegar mixture once or twice a day. Keep note that apple cider is very strong which can cause skin burns and irritation so you need to add more water than the cider.

If you have sensitive skin, use more water.

TO MAKE THIS:
Pour 1 part of organic raw apple cider into a glass bottle
Pour 2 parts of water (filtered or distilled)
Shake them until the mixture is combined.

After you making this, apply the mixture to your skin using a cotton ball and let it sit for 5-20 seconds then rinse with water and pat dry.

3. Honey and cinnamon mask
These 2 ingredients have the ability to fight bacteria and help with inflammation which are the key to get rid of spots, acne and pimples!

TO MAKE IT:
Mix 2 tbsp of honey and 1 tbsp of cinnamon together to form a paste.
After cleansing, apply the mask to your face for 10-15 minutes.
Rinse the mask off and pat dry.
4. Tea tree oil
Tee tree oil is known well to fight bacteria and reduce inflammation. However, it is also very strong so make sure to always dilute it before putting it on your skin.

TO MAKE IT:
Mix 1 part tea tree oil with 9 parts water.
When done, dip a cotton swab and apply it on the infected area.
You can also apply cream if you want then repeat this once or twice a day.

5. Aloe Vera
Aloe vera is a tropical plant which produces gel in their leaves. The gel is mostly used for lotions, creams, soap and ointments.

What's also amazing about aloe vera is that it also helps heal wounds, burns and also help with inflammation.

HOW TO USE THIS:
Scrape the gel from the aloe vera plant.
Apply the gel to your skin
Repeat this once or twice a day.

You could also buy aloe vera from a shop but make sure it's pure aloe vera with no other ingredients in it.

6. Water
I know you've heard this one a lot but it's also better if you drink 8-12 cups of water a day while doing these remedies twice per day.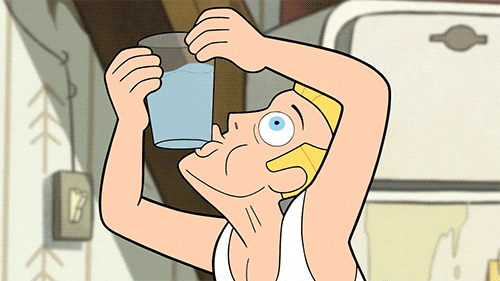 7. Cut off dairy
In general, dairy products exposes you to hormones which can lead to acne and hormonal changes.

If you love dairy products to much, I would highly suggest you cut it off – not totally but most of it.

8. Exercise
Some may say that you get acne also because of stress and helps with anxiety sooooo…

To eliminate your stress you should exercise!

You should also exercise because it is proven that the increase of blood flow helps with your skin cells which could help prevent acne.

If you need help to keep organised with your self care routine, check out my skin care worksheets!